6 Ways to Block Porn or Adult Contents on Android
It is stated by ACPeds that pornography has become pervasive throughout American culture and young people being exposed to porn are as young as age 10. For parents with young kids, the greatest concern might be how to prevent teenagers from sexually explicit materials, especially online. Viewing porn or adult contents will distort young people's view of sexuality, lead to earlier sexual activity and more lifetime sexual partners as well. So what can we do to protect our young kids from being exposed to unwanted websites? In this article, you'll get 6 ways to block porn or adult contents on Android for kids.
Part 1: Turn on Google SafeSearch
Perhaps the most common way to block porn on Android is by enabling the Google Safe Search feature. SafeSearch blocks inappropriate or explicit images and video from Google Search. It adds a layer of protection against malicious content. Turning this on and off can be done on each web browser. Once this is set up, it will start blocking potentially harmful videos, images and websites both while browsing the internet and the Play Store.
Set your search engine to Google. Check the settings on whichever browsers your kids use (Chrome, Safari, Internet Explorer, Firefox, etc.) and make sure they use Google as their default search engine. (On an iPhone, go into your phone's settings, scroll down and tap on Safari, and then choose Google under Search Engine; in Chrome, tap or click on the three dots either at the top or bottom of the screen).
Enable SafeSearch. On mobile devices, open your Google app (you may need to download it). Tap on the gear icon, scroll down and tap on Search Settings, and then tap "Filter explicit results" under SafeSearch filters. On desktops and laptops, go to www.google.com and click Settings in the bottom-right corner; click on Search Settings; and click Turn on SafeSearch and then Lock SafeSearch.
Check all devices, and recheck periodically. Perform steps one and two for all devices your kids use. Regularly check the Google app or preferences section to make sure SafeSearch hasn't been turned off.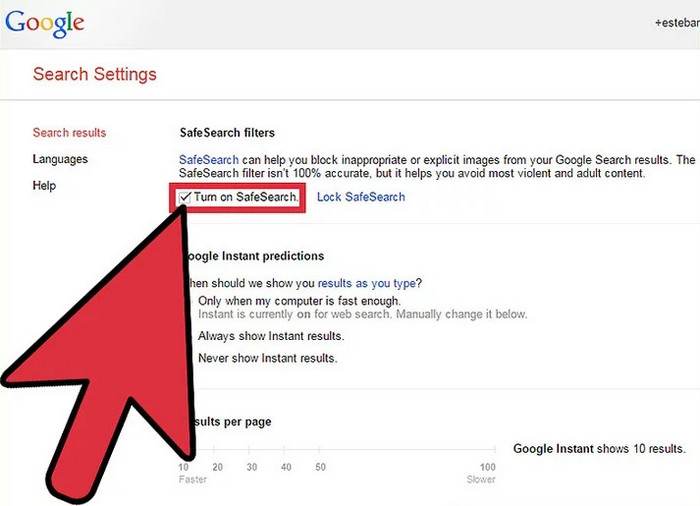 Part 2: Implementing OpenDNS
For families with children, this often means wanting to block access to websites that are categorized as pornography, mature content, violence, weapons, and more. For adults who want to steer clear of potentially addictive content, that might mean just blocking IP addresses categorized as "pornography, sexualized content, and mature."
One of effective ways on how to block porn on Android, and pretty much any other inappropriate content you might want to block, is using OpenDNS. When your device connects to the internet, it uses your network provider's DNS, known as the Internet Service Provider (ISP).
However, if you replace your provider's DNS with OpenDNS's, all your traffic will come through their filtered servers, blocking all porn and harmful material before it reaches your device. Here's a step by step guide on how to set up OpenDNS.
The OpenDNS Family Shield DNS IP Addresses are:
208.67.222.123
208.67.220.123
The service blocks pornographic content, including "Pornography," "Tasteless," and "Sexuality" categories, in addition to proxies and anonymizers (which can render filtering useless). It also blocks phishing and some malware.
Part 3: Use Google Play Restrictions
Turn on the restriction on Google Play on their Android devices will prevent children from downloading apps, games and other web resources that are not appropriate for their age. First of all, you have to choose Google Play Store icon from the app list on child's device.
Then you need to open 'Settings'. You can do this by tapping the menu sign in the upper left corner of the Play Store home screen and choose 'Settings' from the window that will open. From the 'Settings' screen you need to choose 'Parental controls'.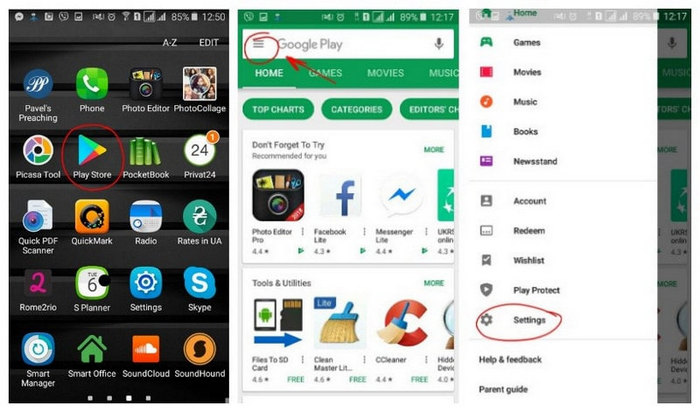 After taping it you will go to 'Parental controls' screen where you have to turn the feature on. After doing that you will be offered to create PIN and block the content you don't want your child to have an access to. You will use it to change parental control settings for this account. Do not tell PIN code to your child. And then you can set restrictions based on age rates for each category.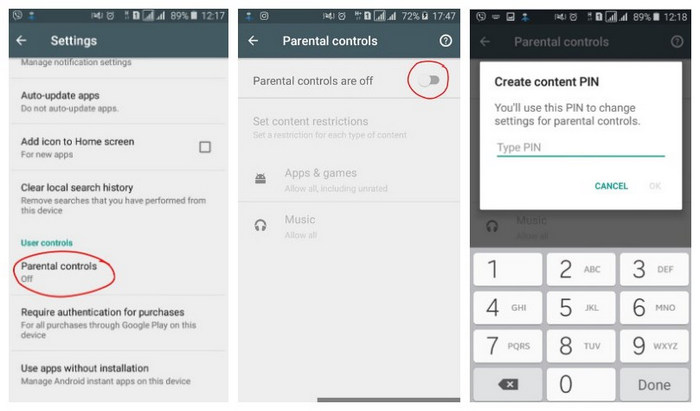 Part 4: Install a Safe Browser
Much like downloading a parental control app, the other alternative is to download a safe browser. This is alternative web browsers to traditional ones, such as Chrome and Opera, but have already blocked the vast majority of adult content.
By ensuring that these browsers are the default browsers, your target device will only allow safe content to be downloaded.
Part 5: Enable Web Filter with FamiKit
If you want to block porn or adult contents for kids on Android in easy steps yet without being bypassed by kids, here I would highly recommend you to use the best web filter FamiKit, which not just enables you to block porn or adult websites, you can also customize site access. Besides, you can track kid's browser history and detect risky words on browsers.
Features of FamiKit:
Track kid's screen time and limit smartphone usage
Monitor app usage and set app time limits
Enable web filter to block porn or adult websites
Track browser history
Track real-time location, set geofences and get notice
Safe search and safe social
Monitor YouTube history and block videos or channels
Step 1: Create an Account
Sign up FamiKit to create an account or you can do so after installing the FamiKit app on device.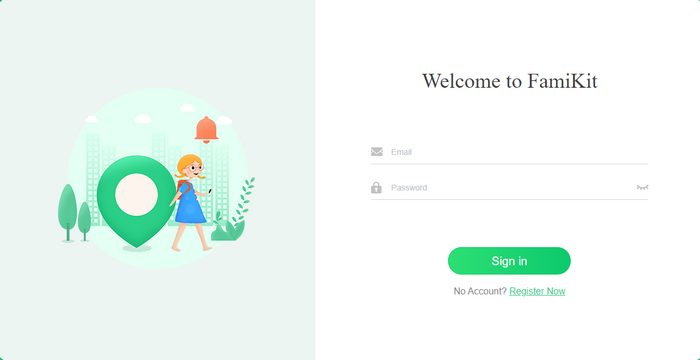 Step 2: Install App on Both Devices
Go to Google Play Store, search FamiKit to download and install the app both on parent's and kid's device. On kid's device, sign in with the account you registered before and select kid's role to fully authorize permissions required according to the instructions given on the screen. After that, your kid can't not uninstall FamiKit without your password. Back to parent's device and sign in as well. Select parent's role to start remotely blocking websites for kids.
Step 3: Start Blocking Adult Contents
On parent's device, go to Features and then touch Website Filter > Adult Contents which enables you to one-click prevent adult websites by categories. You can also customize site access by click on Exception > Add exception and then enter the URL which you want to prevent.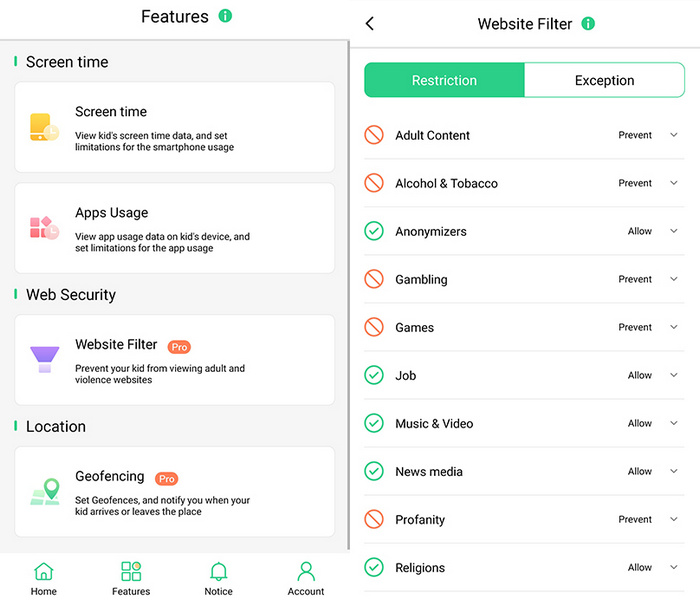 Step 4: Track Browser History and Turn on Safe Search
Go to Features > Browser History, parents can keep track of kid's online history. Tap Safe Social, FamiKit can automatically detect risk words and prevent them being searched on kid's phone. You can also customize risky phrases by tapping on Exception.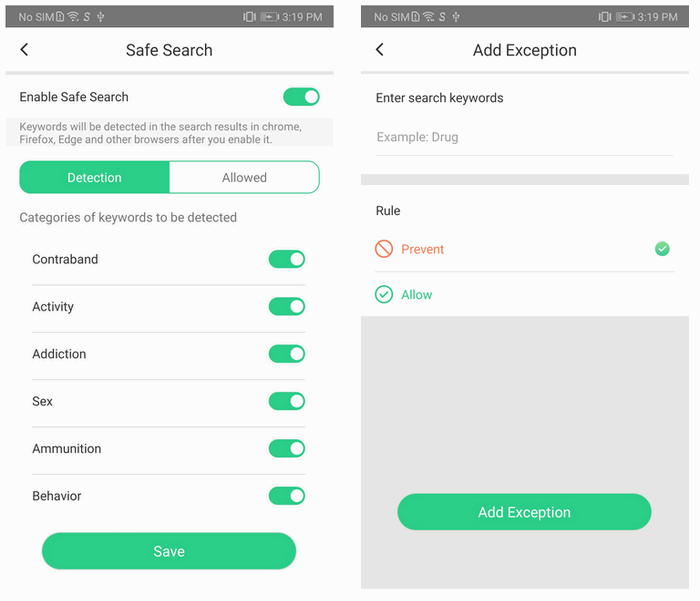 Step 5: Block Porn Videos or Channels on YouTube
Tap Features > YouTube History then toggle on the switch next to Enable YouTube History. Under the History, parents can track all kid's YouTube watch histories. If you find your kids are exposed to inappropriate videos or channels, you can just toggle off the switch next to the YouTube watch history and choose Block This Video or Block This Channel.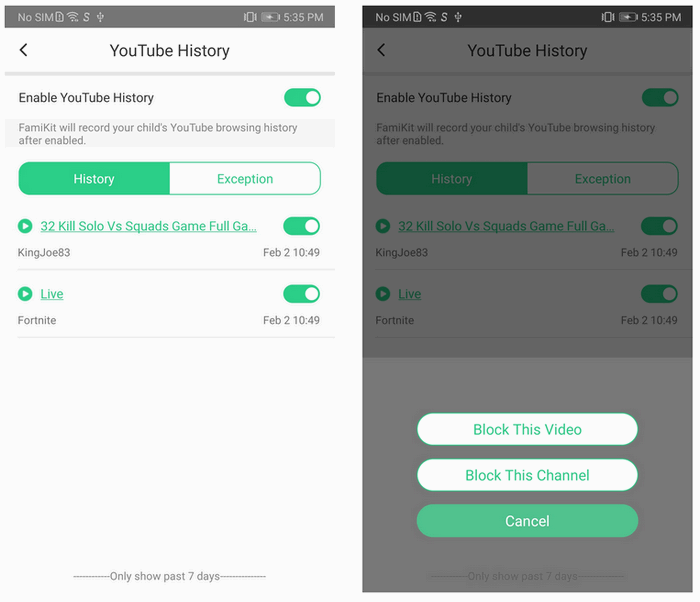 Part 6: Install Parental Control with PanSpy
If you want to monitor your kids' phone activities and turn media mistakes into teachable moments, you can install parental control app PanSpy to view kid's browser histories and other app activities. PanSpy is a professional monitoring solution provider specializing in tracking and monitoring for smartphone users. It allows users to remotely monitor browser histories, contacts, text messages, calls, emails, photos, videos, current GPS location, Kik, Snapchat, WhatsApp, Facebook, WeChat and many other social apps.
With PanSpy, you can:
Track Cell Phone Activity: Call logs, Messages, E-mails, Document, Calendar, Photo, Video, Apps and more
Track Current Location: GPS, Geofencing, WiFi logger
Monitor Social Apps: WhatsApp, Skype, Facebook, Instagram, Snapchat, Line, Kik, Tinder, Hangouts and more
Remote Control: App blocker, Schedule restriction. Website filter
Step 1: Create an Account
Sign up PanSpy to create an account with valid email address. After that, you can refer to the email sent by PanSpy support team to activate your account by yourself.
Step 2: Install PanSpy App on Android
Go to your child's Android and enter panspy.me on browser to install PanSpy app on it. Then login your account which you previously registered with to authorize PanSpy to access data on monitored device according to instructions given on screen. Finally you are able to decide to keep the app icon or not.
Step 3: Track Browser History
After PanSpy app is successfully set up on your kid's Android, now you can login PanSpy console panel either with your mobile device or computer and then refer to Browser History on the left panel to check his browser histories, visit frequency and time as well as whether it is bookmarked.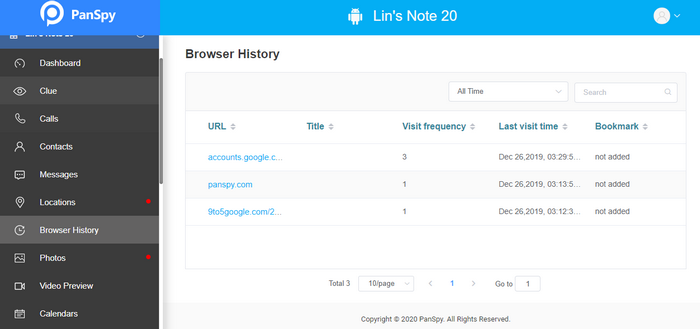 Step 4: Turn on Website Filter
Tap Website Filter on the left panel, then here comes website categories. Choose Adult and then turn on Prevent to block most common porn websites for kids. For blocking specific adult websites, just tap on Exceptional >Add Exception, enter the URL you want to block, then choose Prevent to stop it from being accessed on kid's device.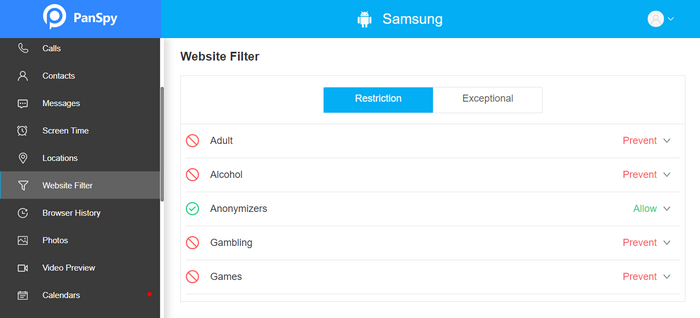 You can also check Photos and Videos your child downloaded from Internet and set keyword alerts for porn, drugs or other things you don't want your child get access to. What's more, PanSpy enables you to set time restrictions for kids and track their real time location in case of any danger happen to your loved ones.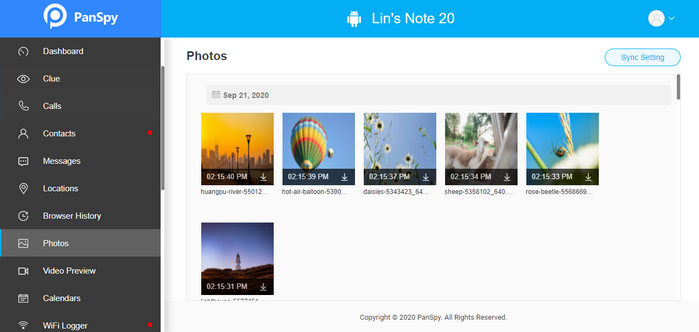 Summary
Above are 6 effective ways to block porn and adult contents that we've compiled for concerned parents. Among them, I would highly recommend both FamiKit and PanSpy which not only support to track browser histories but also are available to block any unwanted websites. Importantly they get lots of other features that are greatly beneficial for parental control.