How to Set up Geofencing for Kids on Android?
Kids are so vulnerable and innocent, and it is not easy for them to keep their guard up in front of strangers. Being a parent, it's barely possible for us to keep an eye on them all the time. So it would be great helpful if there is a geofencing program installed on kids' phone to get them under surveillance. In this article, you are going to acquire two ways to set up geofencing for kids on Android. With this app, you'll know whether kids are staying at home or school or any other places. Also you can prevent them from entering anywhere you don't want them to be.
Part 1: Set up Geofencing for Kids on Android with FamiKit
FamiKit is a parental control app for people with kids. With this app, parents can not only supervise kid's screen time, set time restriction, block adult or other websites, but also supports to track real-time location and set geofencing so that parents can be notified when kids leave or arrive somewhere. Just follow the steps below to get it.
Features of FamiKit:
View kid's screen time and set time restrictions for smartphone usage.
View app usage data and limit app usage.
Enable web filter to keep kids from unwanted websites.
Track real-time location and set geofences and get notice when they arrives or leaves the place.
Step 1: Create an Account
Visit FamiKit official website then go to Sign UP to create a FamiKit account with email. Or you can create one after you install the FamiKit app.
Step 2: Install App on Both Devices
Go to download page to install Famikit app on parent device then login with your account. Select Parent when asking Who use this device. Likewise, install FamiKit app on child device and login with the same account. You should select kid's role this time and then follow the instructions given to fully authorize permissions required.
Step 3: Set up Geofencing
After FamiKit is fully set up on child device, now you can go back to parent device, tap on Features >> Geofencing >> Add GeoFence. On Notice page, you will get notification once your kid arrives or leaves the geofence.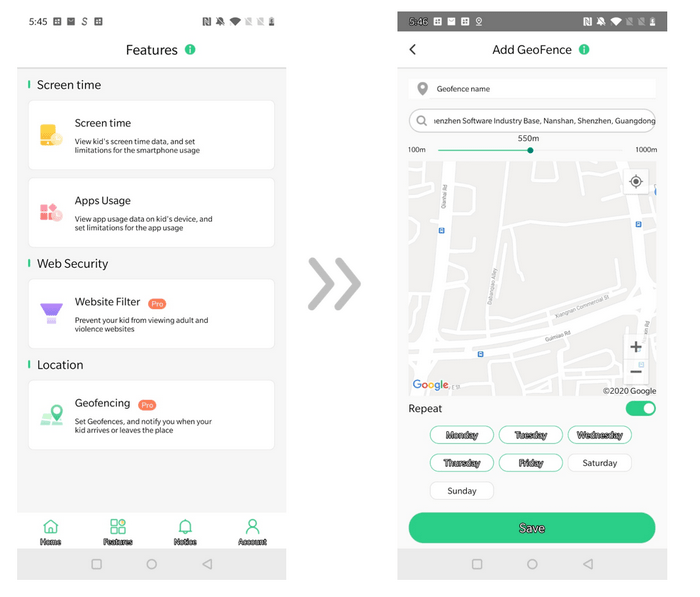 Part 2: Set up Geofencing for Kids on Android with PanSpy
PanSpy is a professional monitoring solution provider specializing in tracking and monitoring for smartphone users. It allows users to remotely monitor contacts, text messages, calls, emails, photos, videos, current GPS location, Kik, Snapchat, WhatsApp, Facebook, WeChat and many other social apps.
With PanSpy, you can:
Track Cell Phone Activity: Call logs, Messages, E-mails, Document, Calendar, Photo, Video, Apps and more.
Track Current Location: GPS, Geofencing, WiFi logger.
Monitor Social Apps: WhatsApp, Skype, Facebook, Instagram, Snapchat, Line, Kik, Tinder, Hangouts and more.
Remote Control: App blocker, Schedule restriction.
Step 1: Create an Account
Visit PanSpy Official Website to create an account. Just tap on Sign UP button on the top right, enter your authentic email address instead of target one's and make a password of it. After a while, you'll receive a confirmation link in your email box. Once you activate it, you can follow the setup wizard to finish setup procedures.
Step 2: Install PanSpy App on Android
Go to target Android and enter panspy.me on browser to install PanSpy app on it. Then login your account which you previously registered with to authorize PanSpy to access data on monitored device according to instructions given on screen. Finally you are able to decide to keep the app icon or not.
Step 3: Set up Geofencing
After PanSpy is well set up on target device, parents can visit PanSpy Console Panel either with mobile device or computer to set geofencing. Just tap on Remote Control >> Geofences to create and monitor. You can mark a location of interest and then set the geofence by creating a circular around it. You will get alerts if send me alerts via email is enabled.
Summary
With FamiKit, parents can rest assured that kids stay at the safe zone for it will notify you once kids step out of it or step inside. Apart from that, this app will enable parents to view screen time, set time restriction, track real-time location and block any websites.