WhatsApp Parental Control on Samsung Galaxy S21
WhatsApp is an instant messaging app that is greatly used among teenagers and issues caused by this app may follow. Kids like using WhatsApp for they think parents are less familiar with it compared with regular texting. As a consequence, teens may believe they won't get caught sending inappropriate messages on WhatsApp. Apart from that, sexual predators and online cyberbullying prevail on this social platform. So it is necessary for parents to keep an eye on kid's WhatsApp. In this article, we are going to show you how to effectively set WhatsApp parental control on Samsung Galaxy S21.
Part 1: Turn on Privacy Controls on Kid's WhatsApp
Actually, there are privacy settings on WhatsApp that parents can turn on to protect kid's online safety on WhatsApp to some extent. Let's find how to do it.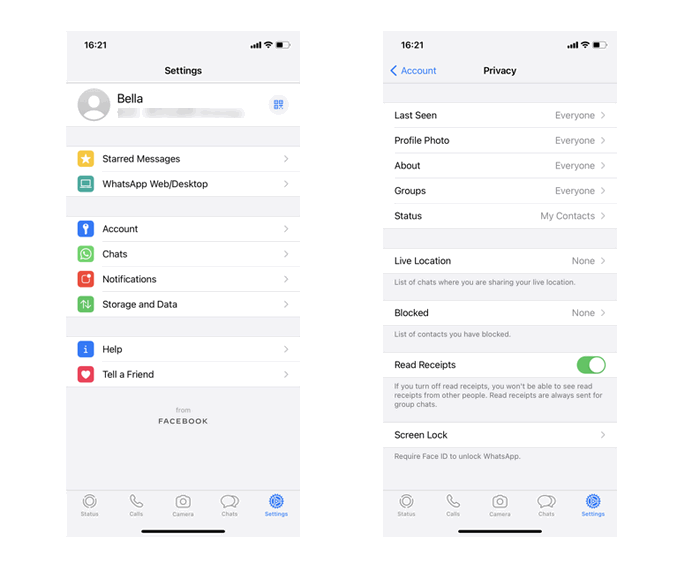 How to block someone?
Step 1: In the bottom-right corner of the app, tap Settings > Account > Privacy.
Step 2: Tap Blocked, and add whom you'd like to block. Blocked contacts will no longer be able to call or send your child messages.
How to turn off visible public information?
Step 1: In the bottom-right corner of the app, tap Settings > Account > Privacy.
Step 2: Up top, you can edit the following four items and select who can see what on your child's profile:
Last Seen: When your child was last using the app.
Profile Photo: Your child's photo.
About: Your child's mini bio
Status: What they're currently doing
How to turn off Live Location?
Step 1: In the bottom-right corner of the app, tap Settings > Account > Privacy.
Step 2: Tap Live Location and select the chats from which you'd like to remove.
How to report safety and security issues to WhatsApp?
Step 1: In the bottom-right corner of the app, tap Settings > Account > Privacy.
Step 2: Then tap Contact Us to send a message.
Part 2: Monitor Kid's WhatsApp Messages with PanSpy
If you are worried that your kids may be chatting with friends or strangers over inappropriate contents, PanSpy can help you track kids' WhatsApp messages of sent and received as well as attachments. And it can also block WhatsApp or set time limits on it.
Features of PanSpy
Track Cell Phone Activity: Call logs, Messages, E-mails, Document, Calendar, Photo, Video, Apps and more.
Track Current Location: GPS, Geofencing, WiFi logger.
Monitor Social Apps: WhatsApp, Skype, Facebook, Instagram, Snapchat, Line, Kik, Tinder, Hangouts and more.
Remote Control: App blocker, Schedule restriction, Screen Management, Web Filter.
Step 1: Sign up PanSpy to create an account with authentic email. After that, you can refer to the email sent by PanSpy support team to activate your account by yourself.
Step 2: Go to kid's Samsung Galaxy S21 and enter panspy.me on browser to download and install PanSpy app on it with permissions required fully authorized. Please note that all important permissions are required to be enabled, while optional permissions are up to you. For how it works, you can also refer to this page.
Note: There is no need to root your kid's Samsung Galaxy S21.
Step 3: Visit PanSpy console panel with any browser to start remotely tracking kid's WhatsApp conversation. Scroll down to the bottom, tap on Social Apps > WhatsApp, and then turn on Features Status. Here, all messages sent from kid's Samsung Galaxy S21 will be displayed as input information while messengers received as notification. Also, there will be screenshots of two-side conversation.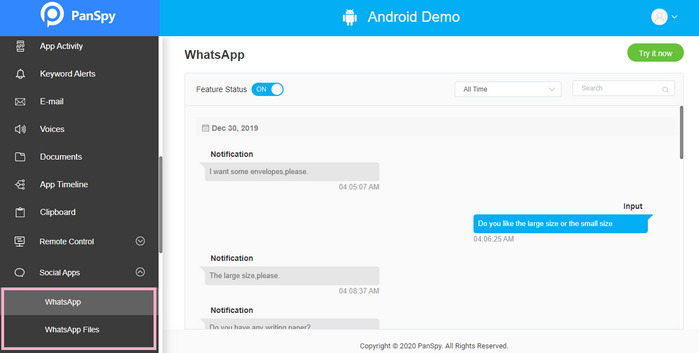 Step 4: For WhatsApp blocking and setting screen time on it, simply refer to Applications > Advanced Rules.
Part 3: Set Parental control on WhatsApp with FamiKit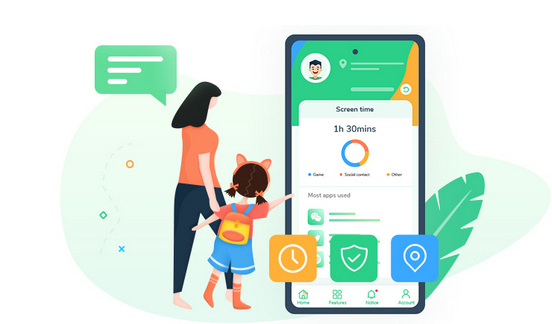 View kid's phone activities and get daily report
Create smart schedules and curfews
Block porn or any unwanted websites.
Get real-time location and track location histories
Set geofences and be notified
Detect risky words on browsers and social apps
If you have no intention to access kid's WhatsApp messages but still want to keep your kid safe on WhatsApp. FamiKit can help detect any suspicious contents on WhatsApp together with screen time limiting on it. For how to set parental control on WhatsApp with FamiKit, simply follow the steps below:
Step 1: Sign up FamiKit to create an account.
Step 2: Search FamiKit on Google Play Store to Download and install FamiKit on kid's Samsung Galaxy S21. Sign in your FamiKit account, select kid's role and follow the instructions given on the screen to fully authorize permissions required. After it is well set up, your kid can not uninstall FamiKit without password.
Step 3: Back to parent's device to remotely set parental control on kid's WhatsApp.
Check Screen Time on Kid's WhatsApp
From the Home page, parents will know kid's total screen time for today, yesterday and even last week. Also the frequently used apps will be recorded. Tap on Feature > App Usage which indicates how much time was spend on WhatsApp.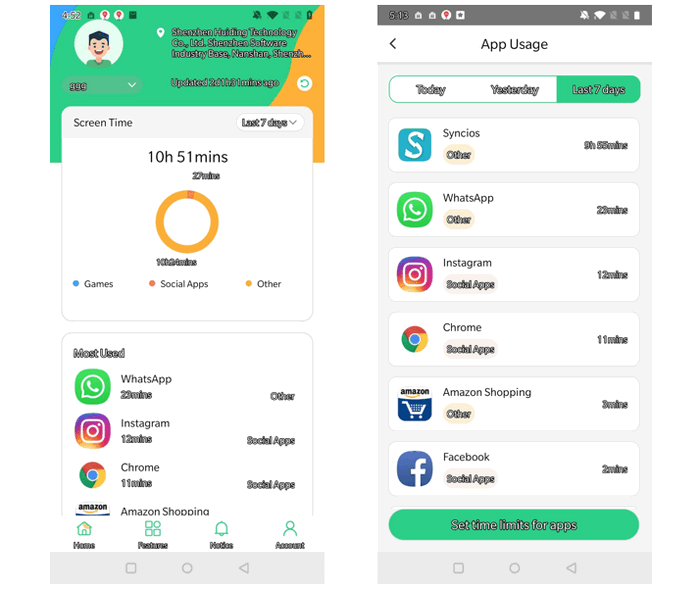 Set Time Limits on Kid's WhatsApp
Tap on Feature > App Usage > Set time limits for apps > WhatsApp, and there are two options of screen time limits on WhatsApp. Tap on Limit Screen Time, enable Set Limits and then choose the hour and minutes; parents can remotely set maximum time that kid's WhatsApp can be used. If you want create a curfew for kid's WhatsApp on Samsung Galaxy S21, just tap on Downtime, enable Set Downtime and then choose the time of Start and End.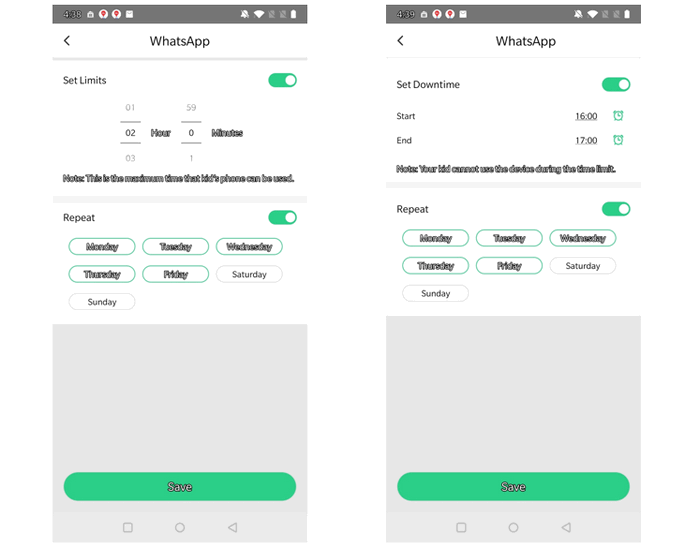 Turn on Safe Search for Kid's WhatsApp
We can't always keep an eye on kid's WhatsApp chats, so it would be a great helper if parental control app can detect offensive or suspicious words on kid's WhatsApp conversation and send us alerts. Tap on Features > Enable Safe Social; there are 8 categories that can be chosen to detect such as Contraband, Activity, Addiction, Sex, Ammunition, Behavior, Bully and Emotion and each of them contains various keywords and phrases. Also, parents can customize risky words.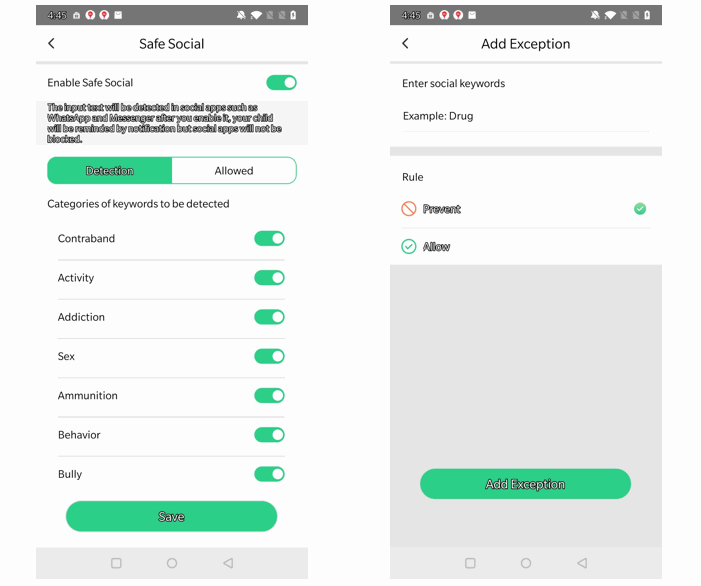 Summary
Hopefully with this guide, parents can easily set up parental controls on kid's WhatsApp and limit screen time with parental control tools. Actually, FamiKit can do a lot more than screen time management, it can also monitor kid's browser history and filter websites as well as track real-time location and set geo-fencing.